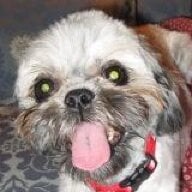 Joined

Feb 13, 2006
Messages

2,389
So I got some sad news, and good news today. Sadly, Hal asked his mother for the ring and she said no.

She explained to him that his aunt should have never given him the ring in the first place, that it should have gone to a female heir in the family. That one day if he were to have a daughter, that is who will get the ring. Bla bla bla. Hal, knowing how much history and fighting there is between his mother and her sister, took this all in stride.
So, he then tells me that his tax return will be the first big chunk he is going to start saving to buy me a ring.

He knows I want a diamond, although I did mention that people get sapphires and other precious gems these days due to money. He told me he wants to make me happy, but that he is not a rich man, to which I laughed hysterically! So tentatively, we are going to look some together in April, and I can send him photos of things I like so he can start to get an idea.

I was really sad to start with, but the more I let it all settle in, the happier I am with the idea. After all, I was embarrassed to admit I was scared it might be a cut that I really didn''t like! He is happy because it feels like it will really come from him and his heart too. And I think he is really going to get a sense of accomplishment from picking and purchasing it himself. In the end, I know I am going to love it no matter what, because it is coming from my true love.