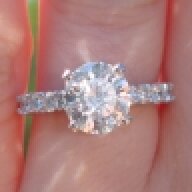 Joined

Apr 8, 2008
Messages

1,207
When I got engaged last June, I was the first in my group of college friends. I didn''t expect anything but excitement, which I didn''t even get. I didn''t even see some of these ''friends'' until December and they barely asked to see my ring. There is almost no enthusiasm from them about getting together for my wedding. I am not saying that it all has to be about me, but I would have like SOME excitement.
Some of these friends live in the town where we went to school and others live in the city near me. When we get together, it''s usually for a weekend because there is traveling involved. The next ''big'' get-together is in June, the weekend before my Bachelorette party. Fine, but I might not be able to go and I will see them the following weekend so no biggie. I was a little irked that they had to plan it for the weekend before but I got over it.
Fast forward to 3 weeks ago, one of these friends gets engaged. I am super excited for her, call her up, the whole shebang. She lives 3 hours away so I will see her in a month or so at my shower.
Today I get an email about our get together in June. One of my friends lets it out that she is planning a Bachelorette party for the girl who just got engaged. The week before mine. And the engaged friend isn''t even getting married until 2010.
I am just hurt. I am not bringing this up to my friends so as not to create issues. I am just going to roll with it. It''s not the fact that she is having her party before mine, it''s the fact that we get together a lot. There WILL be a REAL bachelorette party for this girl before her wedding. And I''m also hurt because I barely got a congrats out of most of these girls. I didn''t expect much, but I also didn''t expect a slap in the face, and that is what I am taking this as. I guess I''m just sad because I thought better of these friends.