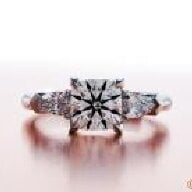 Joined

Apr 4, 2010
Messages

9,667
Our officiant suggested doing a rose ceremony...has anyone done this or been to a wedding that had one? thoughts/experiences?

here is one version

Rose Ceremony
Your gift to each other for your wedding today has been your wedding rings - which shall always be an outward demonstration of your love and respect; and a public showing of your commitment to each other. You now have what remains the most honorable title which may exist between a man and a woman - the title of "husband" and "wife".

In the past, the rose was considered a symbol of love and a single rose always meant only one thing - "I love you." So it is appropriate that for your first gift - as husband and wife - that gift would be a single rose. Get Roses from bride's mom and groom's mom. Please exchange your first gift as husband and wife.

In some ways it seems like you have not done anything at all. Just a moment ago you were holding a single rose - and you are still holding a single rose. In many ways, a marriage ceremony is just like that. For yesterday, you were a man and a woman deeply in love; tomorrow, you will be a man and a woman deeply in love. But something has happened here today; something mysterious and sacred and unexplainable. For today you have stood in front of your friends and family and God and committed yourself together in a ceremony and commitment of love.

My request is that no matter where you are, that each year on this date you exchange a rose as a remembrance of the love that brought you here today - and also as a recommitment of your vows to each other.

In every marriage there are times where it is difficult to find the right words. It might be difficult some time to words to say "I am sorry" or "I forgive you". If this should happen, if you simply cannot find these words, leave a rose at that spot which both of you have selected - for that rose says that "No matter what, I love you."