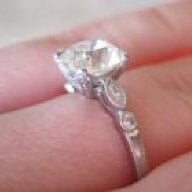 Joined

Jun 26, 2007
Messages

3,081
I know most of you no longer have roommates, you have your lovely DH''s. I''m still in college and live with two girls.

On Valentine''s day I received a box from FTD with pink and red tulips, and a secret admirer note. I later learned who they were from, though we did not discuss specifics (i.e. the type of flower, what the note said, etc). Well, my roommate, L, has had a secret admirer since she was ten who must be her mom. She did not receive anything this year, and called her mom to tell her so. Her mom called FTD, and today they delivered flowers. They are the exact same bouquet with the exact same card.

I got home from work and my roommate accused me of taking her flowers. I would NEVER do anything like this. I don''t know what happened, if someone at FTD messed up, or what. All I know is that on Saturday I had a box addressed to me, so I opened it.

After our confrontation (which included yelling... we have been friends for 4 years and never yelled at one another) she left the house. I called my sister and she suggested buying a cheap bouquet and leaving her a note. So, I went to the grocery store and got her some daisies and left her a note saying that I would never do that, I apologized for yelling, and I said I''m willing to talk whenever she is.

She came home about a half hour ago and hasn''t left the room. I''m kind of at a loss of what to do in this situation. I really don''t want to lose her as a friend, especially over something so dumb. I tried to find the card with my name on it, but I must have thrown it away.

Any ideas??