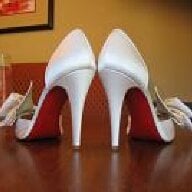 Joined

Nov 13, 2007
Messages

5,720
I needed to find a store in NYC for FSIL to try the BM dress on, and while I was on the phone they quoted me $50 less than any other store here in TX.

Has anyone used them? Thoughts? Opinions? Experiences? ... Rumors? Anything would be helpful!!

ETA: If you did online ordering thru Netbride or another place, were the delivery times pretty close to what they quoted? Did you have to return any of the dresses? Overall experience? Any color differences?