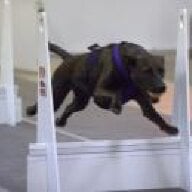 Joined

Dec 25, 2009
Messages

682
Just my luck! (I posted part of the story yesterday in the LIW list thread...)
So we were told the ring would be ready at 4 pm yesterday and I responded to the email letting them know I would be there at around 5 to pick it up. Well, for some reason, they didn't get my email, therfore they weren't expecting me to be there that day and had sent the ring to the photographer for glamour shots and I wasn't able to get it. BF and I were really frustrated after we both rushed home from work and sat in traffic for an hour to get to
BGD
. They offered to overnight it to a fedex facility close to our home so we could pick it up in the morning.
So this morning we went to the facility too early and sat on a bench waiting for about 20 minutes until the package was ready to be released. We finally had the ring in our grubby little hands! Yes! We hurry to the car and open the package (an envelope inside a box inside a box)...I open the ring box and it is beautiful! EXCEPT the accent rubies I requested and spoke to Brian about and pointed out to him specifically where I wanted them were not there. Instead they had put one "surprise" ruby inside the band. I don't know how the miscommunication happened. I am crushed. The ring is stunning, but it's not how I pictured it without the rubies. I am waiting to hear back about what it would take to have rubies set where I originally wanted them.
I feel like I've been a bad girl and I don't deserve to have my beautiful ring. Hopefully it will not be too big of a deal (and too long a wait) to have the rubies set.
On the upside, it really is beautiful and fits perfectly and the size looks great on my finger. I tried it on in the car and got to see it sparkle in the sun.