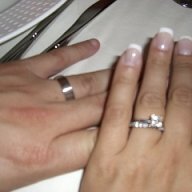 Joined

Aug 28, 2006
Messages

103
I was wondering about response cards. It turns out that my fiance''s side of the family is HUGE, and they are very close. They are inviting a TON of people, but all of them live in New York. We are in California, so we are kind of HOPING that most will decline. We would love to have a lot of them, but these are basically people that have to be invited or there would be hurt feelings...

Anyways, is it okay to send out invitations super early, and then see how many responses we get. We have invited all of our own best friends and I have a small family so they are all invited. My mom has a couple friends outside of really close people, and my fiance and I have a few other not as close friends that we wish could be there.

Is it okay to request RSVP cards super early, and then once we see how many are coming, send out more invites with a different response card? We would do it early enough so no one would realize they werre invited later on.

I was not sure.