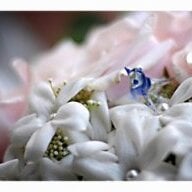 Joined

Oct 12, 2006
Messages

527
Hi Ladies...
I am just trying to finalize the invitations and need a little help and advice on the Response Card wording!
Because we are having a choice of entree for our reception, our caterer is requiring the following:
1. Head count 4 weeks in advance
2. Advance notice of guest entree choice, so that at the reception, their place cards will state what entree the guest has chosen.
So obviously, on the response card I need to ask the guest to choose between steak or chicken, but I cant just ask for numbers.. I actually need to know the name of the guest and the entree they choose.. does that make sense?
I''m just having a hard time coming up with the wording or organization of it. I mean.. can I actually say something to the effect of:
Name of guest(s) and entree choice: ________________
________________
________________
________________
Any help would be greatly appreciated!