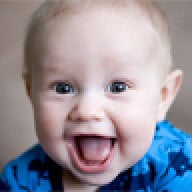 Joined

Jun 28, 2006
Messages

3,960
We had our tasting this past weekend. It was me, FI, my mom, my sister, FI''s mom and one of his sisters. We tasted 5 entrees (my parents said we couldn''t even try the pork) and found 2 that we really liked which works out well since we can only pick 2

. We''re going with Veal Parmesan and Chicken Picatta. Everyone loved the chicken picatta except for my mom so I''m really glad that we had FI''s mom and sister there to say it was their choice as well because I think my mom would''ve made a big deal about it otherwise.
FI''s dad made a comment about our selection later about how most people don''t like veal. He wasn''t trying to be confrontational, but is really negative about almost everything lol. FBILs stood up for me though and were like, yeah...then those people can pick chicken...We''ll also have a vegetarian option that won''t be listed as a choice on the response cards, but people who are vegetarian or kosher will know about it. I think my 2 cousins who are bridesmaids won''t like anything, but they should be able to get plain pasta (they order this everywhere they go). They are the pickiest eaters in the world. I think I might have been that picky at 15 too though.
Our appetizers are tossed salad and fresh fruit and our sides are snow peas with mushrooms and parsley potatoes (these were sooo good!).
They made some substitutions for our hors d''ouevres (man I suck at french...) so we got to taste all of them as well and they were delicious. I can''t remember what they all were anymore though.
FI and I are very happy about the food that we picked and it''s a really good thing that my dad stood up for us about getting to taste more than 2 things because we wouldn''t have picked either of our entrees to taste! Honestly, the description of the chicken picatta didn''t sound appetizing at all to me, but I am now in love with it.
Our Events Director didn''t show up to the tasting due to a family emergency. I''m not sure if I believe she really had a family emergency, but she did respond in a timely fashion to my emails about our choices so I guess it doesn''t matter.
We also picked our baker and picked out the details of our cake this weekend! I LOVE

our cake. It turns out that the design we picked is included too. Yay! We''re doing the traditional yellow batter with the french buttercream icing. As of right now we''re having one layer of filling as raspberry (it was soooo amazing!) and the other as cherry (even though we didn''t taste it, cherry is fi''s all time fave). I''m kind of thinking that this might be weird together now though. Any thoughts? They didn''t have a sample of the cherry for us to taste, but everything there is so delicious that I''m sure it will be too.
Here''s a pic of what our cake will look like except instead of grapes ours will have red roses and the real flowers will all be red roses as well.