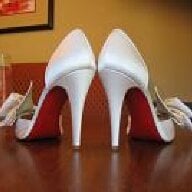 Joined

Nov 13, 2007
Messages

5,720
I know that not every bride has a church wedding followed by a reception at another location anymore, so I had completely forgotten about these. (I base what I still need to do, by what threads I read on the board
). In all honesty I haven''t been to a wedding that was at two different locations in over a year, which is why I can''t remember crap about the invitations.
Anyway, small crises... about to order the invites, and noticed that my invite says "Reception to follow" at the bottom, however, my reception is not at the chruch.
Does that need to be taken off, and we need to order Reception cards as well? For those of your that are having your wedding and receptions at two different locations, what did you do?
My wedding is very formal so I know the "right" answer, but I''d rather not have to pay the extra money for another insert.