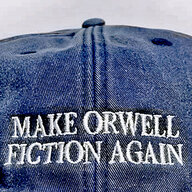 Joined

Apr 30, 2005
Messages

32,297
... not in all sodas ... not
yet
.
This will be an interesting trend to watch.
Here in So. California we've been able to buy Coke imported from Mexico, even at Costco, because it is made with real sugar instead of what's used in America, High Fructose Corn Syrup.
Real sugar costs more than HFCS but I suspect the upcharge we must pay today for sugar is way way out of proportion to Coke's cost.
I also suspect lobbyists for corn-growing industries and states were involved in the change from sugar to HFCS back in the 70s.
Funny, sugar is now being touted as healthy!

5-minute video from Wall Street Journal:
http://www.wsj.com/video/why-real-sugar-is-returning-to-soda/FAC807B6-C465-4B30-95D7-C38C5F947602.html