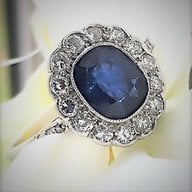 Joined

Apr 24, 2016
Messages

869
Haha me too.

But then I remember for each cat I buy and don't rescue is a cat whose life I can't save by adopting into our family. We only have so many cats we can make a part of our family at once. I know I sound like a broken record but I wish we could save them all.
We visited our 2 in the shelter before deciding to rescue them and I wanted to take them all home. I wish I could give up work and become a kitty mom.
As we live in the city and ours haven't been outside since they were found in September, we will be getting them harnesses and letting them have a run in the garden but not letting them roam free. Too many car accidents.
I want to move to a less urban area near my parents and when my fiancé gets a job again hopefully we will be able to do so. I will consider letting them out properly then.