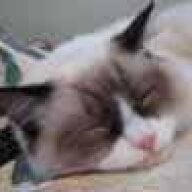 Joined

May 9, 2004
Messages

5,609
I am soooooooo intrigued by the breed of Ragdoll cats. Does anyone have one or know anyone that does?
I want to know if it's true that they are extremely affectionate and devoted, lacking the "cattitude" of the typical feline?!

I've heard they are like "dogs in a cat suit".

Has anyone ever known of one that was aloof or stand-offish?
I know they can get quite large, that their hair is long but generally trouble-free, and that their eyes are always blue. Customary cost per kitten seems to be $600 - $800.
Does anyone know if they are prone to any certain ailments or conditions? What else can you tell me about them?
THANKS!
Lynn