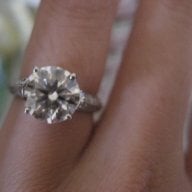 Joined

Sep 16, 2006
Messages

1,045
FI and I are a little tense right now because his parents are unable to give us all of the money that they previously promised to us. I don''t fault them at all of course. They are already being very generous.
I feel so frustrated because the wedding is so close and there is very little we can do to lower costs at this point. The invitations are out and all vendors are contracted. Our hands are tied and we have to move forward. We have enough cash to cover everything, but we will be eating into our savings a great deal.
The amount we are not going to receive is pretty significant. The only thing that I am upset about is that we found this out after it was too late to make adjustments. On day one, FI and I sat down and created a spreadsheet. We talked to both sets of parents and asked them to tell us a dollar amount. If it was zero, that would have been totally okay. We accounted for our own contributions and then worked out a budget. Now we are in a pickle.
I was feeling so awesome about the upcoming wedding. For the moment, my excitement is being overshadowed by worry and regret. I feel like we should not have counted on anything from either set of parents, in case something fell through. We should have lowballed the budget to be safe. We should have not splurged as much as we did.
I am placing all of the blame on myself because it was me who wanted the big wedding that we are having. FI would have been okay with anything. He approved of everything I wanted because he wanted me to have the wedding of my dreams. He totally indulged me. Like me, he thought that our budget was fine. And it would have been if we had gotten the money we thought we would get.
Like I said, we have the cash to cover everything. But I am so stressed out about using our savings. I have so many regrets and I feel like this is all my fault...

I understand that life happens, and unexpected things come up. Nonetheless, I still feel sad and stressed. I keep thinking about everything I should have done differently. =(