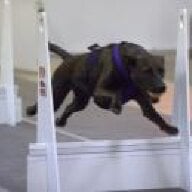 Joined

Dec 25, 2009
Messages

682
My SO and I have been looking for wedding bands.
I want a plain thin platinum band to wear with my beautiful
BGD
halo e-ring.
He isn't very picky other than he wants a row of diamonds in his band. The trouble is, he wears a size 15 so it is hard to find anything in his size or that can be ordered in his size.
This afternoon we went to a couple of our local B&M chain stores to see what the options were.
The first one didn't have any platinum bands for me to look at, but were able to find it in a catalog to be ordered. (For twice the price of the ones I've found online!) Oh well.
They couldn't tell us a price on special ordering a men's ring in the large size, so they'll call us in a few days.
The second one was a Zales "diamond outlet store" and I hadn't been in there yet, so I thought I'd give it a try.
I explained that I wanted a platinum band and the saleswoman proceeded to tell me that they don't really carry it in stores and most people don't want it because it's expensive and it scratches. Then she says "well why do you want platinum?" like she's trying to talk me out of it. I responded that my e-ring is platinum and I didn't want to mix metals.
She showed my SO some bands he liked, but will also have to call later to give us a price for making the large size.
All in all...those stores are a waste of time.
And I'm still stuck trying to figure out what to do for my SO's wedding band.
I mostly just wanted to share my experience about being talked out of platinum, because I thought it was kind of funny.
But if anyone has suggestions about finding a size 15 wedding band, I'm all ears!