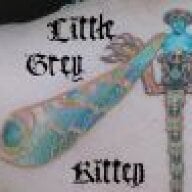 Joined

Nov 27, 2007
Messages

2,975
... that googling things and looking up symptoms online is not the same as going to the ER. I just had the most terrifying experience with my mom and her husband. I talked to her yesterday and she sounded... weird... and she said she'd been really tired. I thought maybe I'd woken her up. I started wondering if there was more to it later, and called her today around 1 PM. She sounded the same- slurring her words, and a bit confused. She finally admitted she was having coordination problems and that she was having "problems with her right side" and started crying on the phone at me. I was smack in the middle of the busiest day of the year at work, and down two people sick anyway, so I was trying not to freak out, but, of course, freaking out.

So I said, "Please go to the ER. Please please please. This might be serious." And so on, and she kept saying no, no, she was fine and didn't want to be a bother. Arg! Finally I realized she really wasn't going to do anything and her husband had, for reasons unknown, left her home alone while he went to get his parents to have a barbecue. So my BFF (thank the lord for her) came and took over for me at work, so I took off with DH to go haul her to the ER bodily if I had to. The second I left she called me and said "Oh, I googled my thyroid medicine and I think it's that, don't worry, don't come over." (Clearly since I have the same exact thyroid problems I knew this was BS right away.) I said, no, sorry, I'm coming right now, get your purse or I'll call the ambulance- that's the choice, either come with me or I'm calling 911. (Except nicer because I didn't want to get into a stubborn contest, we're both champs at *that*). Meanwhile, while I was driving over, her husband had shown back up with his very elderly parents and was commencing barbecue.

So I show up, and it's obvious something is *seriously f*cking wrong*. The right side of her face is drooping and not really working, that foot is not lifting properly and she is consequently slurring her words. By that time she'd realized I wasn't going to bend on this one, it was come with me or have a giant fight and have me call 911 anyway, so the path of least resistance was to just come along- but, here's where it gets surreal. Her husband comes over and starts trying to talk me out of it! "We googled her symptoms and it's probably her thyroid meds. They'll just take her vitals and send her home." And so on and so forth about how freaking google had obviously diagnosed her properly and I should just leave it. I didn't really waste time arguing with him- I just was like "Well, if they do send her home and nothing's wrong, that's great but she's worried and I'm worried and we're going now BYE." I mean they've got great health insurance so good lord, use it!

Do I even need to say how horrified everyone at the ER was that she waited TWO DAYS to come in? No, I really don't, I'm sure. Obviously yes, she'd had a stroke, but we're still waiting for test results and she's staying overnight and thru tomorrow. Her blood pressure was sky high when we came in. They don't think it was a terribly serious one and I suspect she was very, very, very lucky.

Her husband, after she called and told him yes, it was probably "something" and that she was being admitted for tests overnight- he decided to keep barbecuing! I was *furious* over that- so was my sister-cousin, as I had kept her up to date, but she was a ways away unfortunately, but she was ready to come over to throttle him I think. (He eventually showed up at the hospital at 7PM, after I got to her house and left with her at 2PM.)

Finally he called to apologize for not taking everything seriously enough, and to thank me for taking care of her, but good lord. Please leave Google for figuring out how quick your fingernails grow or something, not your whole right side being paralyzed, lethargy and confusion!

Anyway, yeah. Keep an eye on your older folks if you've got them and don't let them decide that google is a substitute for a doctor, good lord. I would never in a million years have guessed that's how this would play out with two smart, educated people with excellent health insurance, and it scared me nearly to death.


Have I mentioned that this year blows goats? However as incredibly sucky and scary as this was, I'm so glad I didn't lose her- it definitely could've happened.