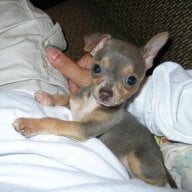 Joined

Dec 16, 2007
Messages

5,184
Treat yourself to a Sony eReader/eBook!!!

I am someone who loves reading, and can easily finish 2 "medium" (around 400 page) books in a week. So, when I **finally** learned about this wonderful technology, I was so excited!!

At first, I fell head first into the Oprah craze and ordered an Amazon Kindle. But, after a bit of research, and a long backorder period, and with the impending launch of the Kindle 2.0, I canceled my Kindle order...and bought myself a Sony eBook 505.

I absolutely



it!!!

First of all, it''s sleek and stylish, which was/is important to me. It comes in three colors (silver, red, and blue) I bought the blue and it''s a great color. The shade isn''t distracting to the eye at all, and is more of a purplish-blue that reminds me of a MAC eyeshadow color I used to have. The e-ink is totally easy on the eye as well, and I find myself reading for extended periods of time without finding my eyes getting tired at all!! The font size is also adjustable, so that lends itself to being usable by all age ranges. If you order it from Sony, you can in engraved (limited spacing stopped me from having mine engraved) to personalize it.

Unlike the Kindle, you cannot download books on the fly...but that option didn''t so much matter to me, as I think I could buy books ahead of time anyway. The Kindle had envo capibilities...but with a smartphone...how many ways to do you need to access the web anyway??? Kindle does charge $.10 per page document downloaded however...and Sony doesn''t...which is another bonus for me.

The price point for the eBook 505 is about $299.00 but, you get 100 free classic books if you order now. The newest eReader from Sony, which is touchscreen (I didn''t care for it) is $399.00.