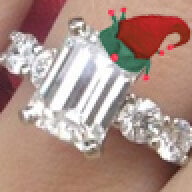 Joined

May 2, 2008
Messages

4,125
I have recently gotten what's called a "shellac manicure" at my nail salon, and it is one of the cooler things I've experienced lately. What the product does is simply go on like polish on you natural nail. They don't file or buff the natural nail in any way--they just give you the normal treatments (cuticle cutting, nail shaping, hand and arm massage) they do in any manicure, but once the start painting it gets really neat. Most salons have been using the CND shellac polishes, which are a "hybrid of gels and traditional polish," according to several sources I checked out.
I have gotten shellac manicure twice now, and I really wish I would've had the option for my wedding two years ago! It's amazing. It's dry once you leave the salon, and it doesn't budge until 10 to 14 days after the original mani. Its stays glossy and looks like you just had them done. I'm now on Day 12 of my second round, and I have one teeny chip that's bothering me. I"ll probably go have them remove it on Tuesday or Wednesday. Oh--that is a downside. You have to have it removed at your salon because they'll either do some acetone wraps on you, or they'll have you soak your hands in acetone, then they scrape/peel it off with an orange stick. You could probably do it at home if you order all the equipment. The removal takes maybe 10 minutes, but then you are back to your natural nails, which feel nice and strong after.
I have read that you shouldn't do it constantly, so I've decided I'm going to continue taking breaks between shellac manis and just do regular ones in between.
I thought I'd post this in BWW since there is always talk about how/when/where/what color will you nails be for the wedding and related festivities. I wish I could've gotten shellac on Thursday or Friday before the wedding, worn it at the rehearsal dinner, the wedding, the after-party, and the brunch the next day with zero concerns about my nails getting chipped and worn. I probably could've then proceeded to wear them for the whole honeymoon!
I know a lot of ladies go with gels or acrylics for their weddings, but I thought I'd get the word out about shellac manis for the ladies that don't want to sacrifice their natural nails, but still want a glossy, pretty, long-lasting manicure for their weddings. Hope this gives people some ideas!
Here is a
link to CND's FAQ
about shellac.
Colors:
link to shellac colors