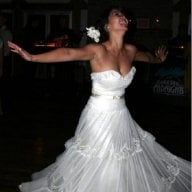 Joined

Aug 28, 2008
Messages

1,247
Hi Ladies!
This is my first official thread in BWW!
So, I visited a bridal salon for the first time on Sunday. It was a very fun experience but wow, some of the dresses are heavy and hot! I did get to try on my absolute dream dress, the Melissa Sweet Fern (that I''ve raved about a gazillion times on PS), which easily became a reality dream dress...if that makes any sense at all! Both my mom and my friend gasped when I walked out in Fern.
Anyway, that''s not the point of this thread! My 2nd favourite was a Pronovias gown that did not have its label anymore so I could not find the style number. The consultant said that it was from 2007 and is discontinued so I have not been able to find it anywhere on the internet. I know how savvy you ladies are so I''m hoping you can help me out.
Here''s the dress: