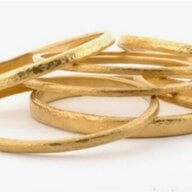 Joined

Jan 26, 2003
Messages

22,129
The first of President Gerald Ford's two Washington funerals will be held tonight. This one is being called the "State Funeral", although President Bush will not be attending it. He
will
be attend one Tuesday (?) at the National Cathedral and will speak there.
I know that other people my age will remember President and Mrs. Ford well, but I do not know if the younger Pricescope members will. They had quite an effect on some of us because, when he became President, no one had ever been as candid or as unpretentious as Mr. Ford and his wife. She was the first famous woman, the first woman in a position of
prestige
, who spoke openly about having cancer and, also, about using prescription drugs and alcohol. I think I also remember the Fords wanting to sleep in a double bed in the White House, although I could be mistaken. (To remember the Fords one must be a bit senior and, thus, subject to "senior moments".)
As all the news people are saying, President Ford also pardoned President Nixon. The Fords were, in my opinion, highly likeable people and Mr. Ford was a highly likeable President. What I have heard of the plans for the funeral, the desire to keep it low-key, remind me of the modesty I remember seeing in him and his wife and children. I will miss him.
Deborah