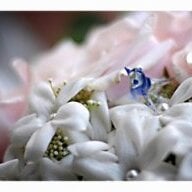 Joined

Oct 12, 2006
Messages

527
Ok.. so I did a search.. and I didnt really find quite the topic or answer I was looking for:

The best man in our wedding (whoooohooooo 33 days!!!) has informed us that he is getting married in June... he asked me to post to you wonderful Pricescopers about Prenups!

He has fallen head over heels for a Brazillian au pair (sp?) whom he has been with for about 3 months.. and they are getting married in June due to immigration issues (getting married so soon due to the immigration issues)...

OK.. so for the sake of getting information.. lets just ignore the obvious red flags... and let me just say that we (FI an I) are VERY happy for him and want the world for him..

So.. down to the nitty gritty.. he has expressed an interest (to my FI) that he may want a Prenup. This prenup is not necessarily to protect any assests, but more a protection of the income. He would be bringing in the major part of the income for the household as she will continue to be an Au pair (I am guessing that her income is SUBSTANTIALLY lower than his.)
ETA: Just so you all know this will be taking place in California (I know that what state this takes place in, has some effect!)

Please forgive any inaccuracies as I am relaying alot of this information...I do want you all to know that my FI did ask him point blank "Do you have any doubt in your mind that this wedding is about anything (the greencard) other than the marriage?" His answer was a definite... "No doubt in my mind"

In my opinion.. there were immediate red flags.. but I congratulate our best man on seeking out some protection.. I personally dont see it as a form of doubt.. or premonition that something might go wrong in the future.

So, my question is.. what are your thoughts? how would you think he should approach this issue with her? Do you have any experience and can offer an honest opinion on this matter... Obviously it has the potential to become very heated... I am not expressing a right or wrong opinion on the subject of prenups.. but I would like to know what ya'll have to say.

Thanks in advance.. my FI and I, and our best man thank you!