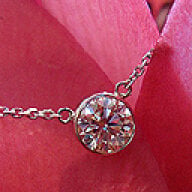 Joined

Oct 30, 2002
Messages

31,003
Re: Preggo stuff, Baby Stuff, Toddler Stuff...post your best
hey mamas to be...
Baby Cheapskate just posted today an article on getting a crib, mattress, and a few accessories for under $350.
http://www.babycheapskate.com/2011/01/17/crib-mattress-and-accessories-for-under-350-heres-how/
we got either the Graco Sarah or Lauren (can't recall) at amazon for $110, a mattress for $50 for my mom's house. though, having our home naturepedic mattress to compare it to, the cheapo one is SOOO subpar compared, super soft and lumpy. but doable for a 2nd/hardly used mattress. suggest going into a store and pressing on them to see what is the best lower cost one before buying.
also i found TJMaxx/Marshalls to be awesome for 1/2 price baby accessories for things like crib sheets, waterproof pads, hooded towels, washcloths, swaddling wraps, etc. i got many things there before J was born for more than 50% off, they are just overstocks from retail. and great for baby clothes.
just an FYI for any mamas on a strict budget!