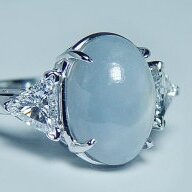 Joined

Jan 11, 2003
Messages

524
Retail therapy, it works! There's nothing like a little LV (and maybe a new wallet) to lift the spirits a bit.
Next week is my birthday and we're suposed to be in Roatan scuba diving, yet I still do not have my passport?????????
I mailed the thing off in early Dec for renewal and as of this past weekend I was in a real panic about not having it back. Also I've not been able to contact anyone to find out why not. So after days of being frustrated from getting nowhere I totally broke down, lost it completely, but my super wonderfully understanding husband managed to get our local Senator to contact the passport agency. Within the hour I got a call back from the passport agency saying I'll have my passport by Wednesday this week in time to leave at the crack of dawn Saturday morning.
It shouldn't have come to that but Thankfully I'll be on that plane and getting a much needed vacation with hubby!
Meanwhile yesterday I went to pick up the Zippy Wallet

since it sold out online, only to return today for the Lockit too. I'm pretty casual & traditional and carry my LV's forever. I always find that I go back to it (that old standby thing) so I don't even bother trying to get a different designer anymore.