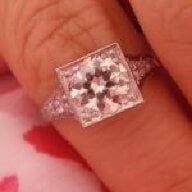 Joined

Aug 13, 2011
Messages

509
Leaving the land of lurker at last!
I never wear jewelry - my few heirloom pieces are gathering dust in the safe. I've never bought jewelry for myself and have a wonderful collection of scarves and hats that I use to accessorize.
My boyfriend has been encouraging me to think about the kind of e-ring I'd like. We tried a few e-rings at local stores and he clearly prefers large/expensive pieces that I find a little intimidating. Since he'd be disappointed if I said I didn't want a ring at all I suggested we could try a 'practice ring' / commitment ring. My boyfriend is uncompromising about wanting platinum metal even for the 'practice'. I prefer emerald cuts with large facets rather than the 'splintery' style brilliants. He prefers round shapes so maybe a
GOG
European?
After reading the helpful responses in the post about jewelry ambivalence I thought I'd ask the experts here for ideas. Do you think a practice ring is a good idea and if so any suggestions on a beginners ring?