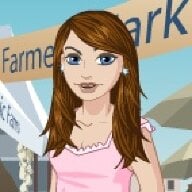 Joined

Feb 17, 2006
Messages

3,867
FI and I live in a rowhouse, and our kitchen is actually quite large for a rowhouse, but still... storage is an issue. We have a 10 ft ceiling in the kitchen, and want to put a potrack over the island, but have been debating size as I don''t want it to extend over the sink in the middle, where FI spends a lot of time (doing dishes!!!) since he''s TALL.
so the debate is:
square
?
oval
?
rectangle
? something else entirely?
if you have one and love it, chime in. If you have one and hate it, let me know that too! I already know about the dust factor, but we need more storage space!
thanks!