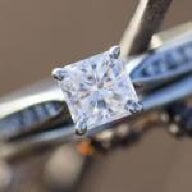 Joined

Jan 18, 2011
Messages

499
Hello!
First, before I ask my terribly stupid question, I want to thank you for humoring me.
My college ring is unplated white gold. I don't wear it because I honestly think the color of the metal is really ugly. It's not even a good alloy. It's more yellow than white. I love yellow gold, and I love the white color of rhodium plated white gold, but this inbetween is not pretty at all (to me). It's also scratched really badly all over.
I would love to start wearing it again, especially since it was so expensive, so I'm considering getting it rhodium plated. My local jeweler will do it for $40. Sooo my question is, is this a dumb idea? Will the rhodium plating look right considering the engraving of the school crest, my graduation year and major on the outside?
Thanks