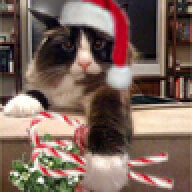 Joined

Jan 6, 2005
Messages

7,770
OK, I know I''ve been taking shameless advantage of the PS dust these last few months, but what can I say, it works, and you all are so sweet to be so free with your encouragement and good thoughts.

So, I''ve got a thesis committee meeting coming up on Friday. Or rather, I should say, THE thesis committee meeting.

I''m in a PhD program, and the way it works is, you graduate when your committee (made up of 3-5 professors) says you are ready. I''m going to try to convince them that, barring a few very minor things which I can do easily over the next 4-5 weeks, I am ready to start taking the steps for graduation (this involves writing up my dissertation and presenting my thesis research to the university community, as well as completing the publication process on the paper I am submitting for peer-reviewed publication as we speak).

I''ve done all that I said I would do to complete my thesis, and have answered the questions I posed in my original hypotheses. I''m going to try to convince them that this is sufficient, but thesis committees are notorious for being unpredictable, and they may think of additional things they want me to do.

So I could really really use some dust for this - that the meeting goes well, that they agree I''ve done enough, and that they will cooperate in getting me graduated in time to start my new (dream!) job in August.

Any good thoughts you could spare would be much appreciated - the anxiety is killing me, and I just want to so badly for this to go well and to be over!