Hey guys I am new to this forum. The reason I joined is because I am looking for advice for my infected ear.
So on October 29 i got my daith pierced. I was religiously cleaning it and taking care of it iid everything by the book. Sadly to say it got infected. I went to the hospital on October 31 to see if they can remove it and they refused. Instead they gave me antibiotics (curam) and told me to come back after 1 week in order to take it out.
so this is what my ear looks like as of now.
my earring is embedded from what i can see.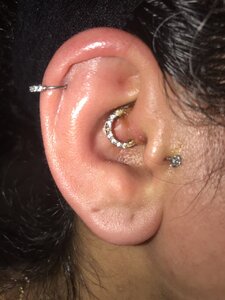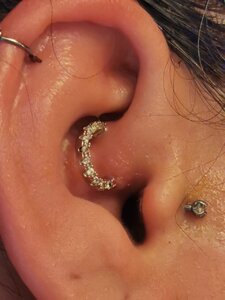 I talked to my peircer she insisted on me going back to her to get the piercing changed and i told her i wasn't sure if that was a good idea because; the doctors refused to touch it.
I am really freaking out because from what i read online infection of the cartilage is really bad if its not being taken care of. So my question is what should I do? Change the earring? Or wait for the hospital (which will be on November 9)?
I apologize for the long rant