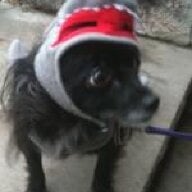 Joined

Jan 4, 2011
Messages

362
We're around 11 months out til' our wedding and are starting to wrangle vendors. We have our location (which includes food, bar, rentals, etc), and we just booked our DJ last week (we're working on the contract now). Next up was the photographer. We had interviewed a very nice woman via Skype on Friday morning and asked her for a link to more of her work. I had a really good feeling about her. She didn't get back to us with the links until Sunday because she was doing a wedding - no worries. We saw her work and thought- she's be ok and we liked her personality. I wasn't ready to commit yet, though. I didn't have any serious concerns, I just wasn't ready to give the big YES. I told the FH to email her this morning to book her- the price was right, she was nice, and her work was good. She emailed us back saying she had just been booked this weekend. UGH!! We, VERY STUPIDLY, emailed all of the other photographers to tell them we were no longer interested and now we need to go back over our noted and see if there was someone we liked but somewhat over our budget.
I guess I'm really stressed because this is the first small hurdle in wedding planning so far (minus the parents), the FH goes on a project next week for 3 weeks which means no wedding planning for at least 3 weeks (maybe longer), and I'm just really stressed thinking that we're going to keep needing to raise our budget for photographers if they all keep getting booked.
Nothing major, just annoyed, disappointed, and feeling a little stressed about the budget/timeline/overall wedding to-do's.