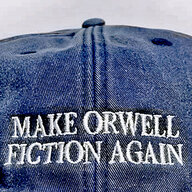 Joined

Apr 30, 2005
Messages

32,959
For instance in a thread debating the importance of wearing seat belts someone will post, "Yeah, but it's also dangerous to drive too fast." (as if that's an argument to not wear seat belts)
Or, they'll post, "Yeah but I know of an accident where there was a huge flash fire and just the extra time it took to unbuckle the seat belts caused passengers to die.
How bout a thread about the health risks of smoking ...
Someone has to post, "Yeah but my Aunt Terry smoked a pack a day her whole life but died in a car crash at age 123."
Why do people even think/argue/post this way?
Yet is it
very
common.

I suspect what's behind this broken thinking is an unfortunate byproduct of our overly-PC culture that makes people think: A single exception to a legitimate generalization makes the generalization completely untrue.