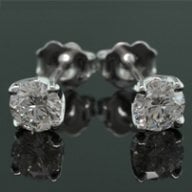 Joined

Jan 10, 2007
Messages

412
Our 21 year old cat is sick. Has been really ill for a couple of weeks now. At first we thought he had a stomach bug. He got sick and a couple days later seemed better. But then he stopped eating and drinking completely.
We took him to the Vet a week ago Friday. The Vet did a physical exam and thought our cat might have a bacterial infection. Our cat has a bad tooth that the Vet can''t do anything about. They''re afraid if they sedate him to remove the tooth, he won''t recover from the anesthesia. The gave him 150 cc''s subcutaneous fluids for dehydration, and a shot of long acting penicillin (for the infection) and B Vitamin (to spur his appetite). The Vet also suggested we offer our cat foods that he especially liked to eat. By Monday, this past week, our cat seemed fine. He was back to normal and eating well.
Later in the week, however, he took another nose dive. At first he quit eating his food. He would lap up the gravy, but didn''t eat the solids. Then we noticed he was only drinking the gravy from the food. No water. Yesterday, our cat quit eating entirely. We also found blood in the litter in the potty. Of course, we noticed this AFTER the Vet''s office closed for the weekend. And our Vet''s office does not have an Emergency Service.
During Hubby''s morning check of the "Headlines", he came across a link to this story:
http://www.breitbart.com/article.php?id=D8NUCLFG0&show_article=1
Pets are being poisoned by their food. Wheat gluten is the suspect offender. This has led to kidney failure in cats.
Please check the following link to see if your pet has been eating any of the potentially contaminated foods:
http://www.menufoods.com/recall
Our cat''s favorite is on the list of suspect foods making pets sick.