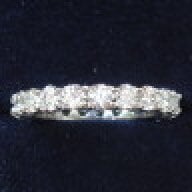 Joined

May 4, 2008
Messages

884
I posted last week - as i was stressing about what to get my bridesmaids as gifts, in addition to their wedding jewelry.
Well......................Thanks to some great advice on here I am happy to say I just got back from the coach outlet and wanted to show you what i got them!
http://www.coach.com/content/product.aspx?product_no=12773&category_id=1966
They are perfect as you can move one of the ends of the leather strap, so you can carry it two ways, it can be a wristlet or a small little purse.
I got the bridesmaids each one to match them and their styles
44- black, 34 new mom -purple with brown leather, 23 bee boppity blonde - yellow for summer and 22 earthy crunch hipppy - brown.
YAY! im so excited.
OH and they came out to be $37 each! CAN"T BEAT THAT!
thank you all
especially hudson hawk and elmorton for giving me your ideas! YAY what do you think???