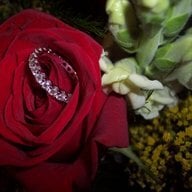 Joined

Dec 18, 2007
Messages

3,793
Hi all (Panmanda in particular)!
I had to stop at Marshall''s on my way home from work today (not for shoes mind you) and I happened upon the shoe section, of course

. I found the most lovely Kate Spade shoes in the aisle, in nearly every size...they are the exact same shoe a good friend wore for her wedding a couple of years ago - i love them! She had them in Ivory but these were blue and a great price at $129.00...
PanManda and i live
very
nearby to each other, and while i won''t be purchasing these shoes (i think the shoes are out of my budget

), I thought I''d pass the info along in case she or anyone nearby would like a good deal on a lovely pair of blue shoes!
I''ve taken a few (crummy) pics with my phone on my foot for you ladies -- it''s hard to take your own foot picture with a crummy phone BTW. The blue is very pretty -- like a bright navy satin. I''ll try to post the "real" shoe from a website too....
So, if anyone is near a Marshalls (i live in the DE/MD area) they might also be in your stores at a great price....just thought with all the shoe action, someone might be looking.