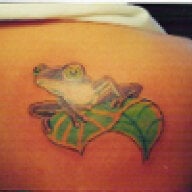 Joined

Dec 12, 2008
Messages

10,614
We've got some more stuff to do in the backyard yet, and then I'll do a 2016 yard thread since I didn't do one last year. Dad's getting ready to split iris so we stopped out today to mark the ones we want and I took a ton of pictures. Not a whole lot is blooming right now, but in a few weeks it will explode so I'll get some more. These I guess for starters will give a broad scope of their place and an idea where my brain is at with our yard.
They have a little over three acres and bought the land from a farmer, moving out there in 76, when I was 2 and my brother was just born. It started out w/just the windbreak of trees and the lilac hedge, plus some random trees--most of the huge ones, tho some have been replaced b/c of storms etc. They had some nice stuff around the outside of the house when we were young, a row of Amer (sp) Maples by the well, and then a hedge of roses and that was it. I don't remember when the flowers started...late junior high I guess? Or maybe i was about a freshman. Regardless, it started out as one small bed and then progressed like crazy. My brother and I were expected to help of course. I stayed after graduation and he hightailed it to live on his own-so I was there busting but until I was 27 and married JD. It was a second full time job for me.
I didn't help matters much tho.."dad, I was thinking...a bed would be pretty right there..."
And they're all named. There was a restaurant in town we used to eat at all the time, and dad had a valise full of plant nursery catalogs and a legal pad/pens and my parents and I would go over the catalogs and mark stuff and dad would draw up beds. They used to have *everything* labeled in all the gardens but man that's a lot of work. Now it's "oh that's..you know..that one stuff"

They were on a landscaping tour one year and I can't remember the number of times I went outside to do yard work, or came around the corner carrying buckets to find people standing in the yard looking at things. The restaurant we frequented, we brought bouquets in all the time and they would tell people where the flowers came from, and even people traveling (restaurant was next door to a hotel) would drive clear out the 10 miles to check it out.
There's a lot less than there used to be when I was still home--they lost one of their workers haha. I remember seeing my "chore list" and it would say "dead head daffys" and how daunting a task that was--at the time they had about 3000 daffodils.
We're getting ready to eat so I will post pictures in a bit. Sorry for the post n run.