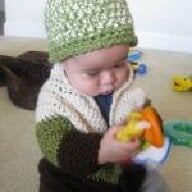 Joined

Feb 12, 2006
Messages

876
Hi everyone. . it''s been a while
Our date was set at August 18th, 2007 but my father got laid off from work and we had to rework the wedding due to financial hardships. We are pitching in more and they are pitching in less, but the original place was still way out of our new budget. So we had to cancel. I was heart-broken because I thought we''d never find anything I would love as much, let alone in 2007 (I''m in a big bridal-area. . .OC/LA California). Things are mostly booked up. Well, I was ready to give up on the whole thing but my mum convinced me to look at one last place. I feel in love. They only had two saturday nights left for 2007. One was labor day weekend (not too into that idea as a lot of my friends go to Mexico on long weekends). The other was May 5, 2007 (Cinco de Mayo). Since neither of us are Hispanic and only a few of our friends our, we thought that Cinco de Mayo wouldn''t interrupt anyones party plans or anything. I got really excited and we booked for May 5, 2007. Things were looking up! My fiance was there when we booked and was excited as well.
Well. . . his cousin found out about our date and reminded him that it was the day his grandmother died. ouch! i''m really upset and feel terribly. I''m pretty upset with FI that he had forgotten this. But, considering that he talks to himself more than he talks to his family (haha), i got over it pretty quickly. But, i just feel really bad and am not sure what i should do now. :-/ His family is extremely racist and disapproves of our marriage alltogether. I feel like this will be a stab for them. Like I did this on purpose.
I think about how upset I would be if say, my brother''s (imaginary) fiancee picked the anniversary of my grandmother''s death as their wedding date. And i''d be pretty pissed at him, considering it was a
shock
for our family when she died and was an extremely difficult time, if he forgot the day.
So. . .how do I handle this? They won''t talk to me anyways. . .and quite frankly FI is still debating on whether or not he wants them at the wedding no matter when it is. I guess i just feel bad that we chose this date. And i think it will make tensions even worse for him and his family.
Is there anything I can do? They won''t talk to me anyways, so calling to explain isn''t an option. I just feel bad. any ideas??
ps- for all who followed my other dramas, FI and I are doing extremely well. I''ve let go of a lot of things and so has he. After we set the date, things fell into place with us. i guess we both realized that we needed to get over ourselves sooner than later or we were headed for a hard time.