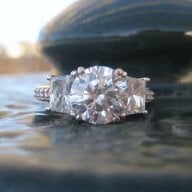 Joined

Feb 8, 2009
Messages

169
I have been having ovary problems for almost 2 years now. And by the word problem I mean..I feel them ALL the time! All day everyday..not just during ovulation. About 95% of the time. The pains are different. Sometimes it throbs, sometimes it is stabbing and I double over and sometimes I just feel it and know it is there. It often feels heavy and feels like it is going to fall. I am a stomach sleeper and it is so heavy in the mornings when I wake up it feels like it is going to fall through until I roll over. Both ovaries hurt but my right one gives me the most problems. About a year ago I had a few cysts rupture. I had an ultrasound and it showed the cysts..blah blah. Nothing really was done. Well, its now a year later and I still have problems and they slowy get worse. Last month I missed my period by 3 weeks! No way I could be prego either. I went to the Dr. b/c I am always regular. I ended up not being able to see my reg. Dr. so I saw a a nurse practitioner. I was not very happy about this but I went ahead w/ the appt. I loved her. It was nice to have a fresh prospective. She ordered more tests. As before, Poly-cystic ovary syndrome was brought up but I really don''t fit the normal description well. I had tons of in depth blood work and everything came out perfect. They said it couldn''t have been better. I had another ultrasound to check for cysts and other problems. No cysts at all but they found that my right it quite larger than my left. They also found that I have a lot of follicles(eggs). I asked if I was fertile Myrtle and they said they didn''t know if they were viable or not so it is hard to tell. Normally they say women produce 2-3 follicles and I had 10-15. She called with the final results and said that she was puzzled. On the ultrasound it looks like poly cystic and the blood work says otherwise. She said that the opposite has happened before but never my case. (Anything odd and mysterious seems to happen to me!) She has ordered more blood work so I will go in soon for that. She also called a specialist and consulted him. He seems to think that I am okay as far as being able to have kids but they will review my case again after the new blood work. Honestly, I got the runaround and I don''t think they have a clue what is going on.

I went in for pain and now it seems like we are talking about fertility. Although we are unsure on kids I would like to have the choice on children. I am extremely confused about this whole situation. If you made it this far in my story..BLESS YOU!LOL I wanted to share because I am confused and thought that maybe some of you have heard of this or have gone through it or something similar.

In any case thanks for reading and letting me vent!!