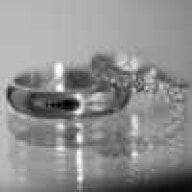 Joined

Mar 18, 2008
Messages

909
Hi, everyone. I am writing at a pretty low time, so I am sorry if I sound very "poor me," but that is really how I feel at the moment. This will probably be a long post, but I have posted on here during some sad times in the past year, and it has really helped--so I am going to go ahead and post now...

I started feeling a pain in my lower abdomen a couple of weeks ago, but it wasn''t that bad. To be honest, for the first week, I really thought it was probably gas or something. But last Friday, it was still bothering me so I made an appointment at the gyno for this past Monday. I went, and immediately, the gyno found a very large cyst. "The size of a grapefruit," she said. I went to the radiologist, and they found it was about 10cm.

So, after a long week of going to radiologists and a surgeon, they have determined that is probably not cancer (thank goodness, though they can''t tell for sure until they remove the cyst and have it tested, which will take a few days), and that it will probably not go away on its own. The surgeon gave me the following options, and told me that the decision is up to me entirely:

1) I can have laparoscopic surgery, which will be a short recovery time (about a week out of work), but I will lose my right ovary

OR

2) I can have a laparotomy, where the surgeon will hopefully save my ovary while removing the cyst, I will be left with a 4-6" scar, and will be out of work for approximately 3-4 weeks.


So, a little background: I''m 27 years-old, I''m engaged, and I''m getting married in November. I want to eventually have kids. I graduated from law school a year ago, but because of studying for the bar exam, I have only been working at my job since August. I work for a lawyer who used to be a sole practitioner until he hired me, and we haven''t been getting along so well. I am making just about the exact amount that I need to make to pay my bills, but I am unable to save.

Also, there is a lot of infertility in my family, and I am polycystic, so I rarely get my period. I have always been worried that I was at risk for lowered fertility.

Okay, so. I have missed about half of a week of work this past week (I hadn''t taken off a single sick day since I started before this). I went in to my boss on Friday, and explained everything to him, and asked him what his position was--whether he might let me go if I take off 4 weeks for this invasive surgery, or whether he wouldn''t pay me, or what (yes, he is legally allowed to do that). I offered that I could probably work from home for probably 2-3 of those 4 weeks. He told me he would have to think about it, but I know him pretty well, and I have a feeling that not only will he not give me a straight answer, he very likely might let me go.

I would be so incredibly financially screwed if I lost my job--I can''t even tell you. NO ONE in my field is hiring (true of most fields, I imagine). I have a ton of academic debt. A ton. It''s insane.

Anyway, I am just very frustrated, very sad. My family and FI have been wonderful, but it''s just a terrible situation. I don''t know what to do. No one can make this decision for me, but I don''t know. I''m so scared about every possible bad thing that could happen.

I guess I''m soliciting advice...has anyone ever had anything like this happen?...