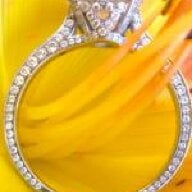 Joined

Feb 3, 2008
Messages

7,948
I have been wanting to post about our new little girl we got in August. This week we almost lost her. I took her to be spayed. She is
four months old. She got though the surgery okay, but afterward her heart stopped and she stopped breathing. When I went to pick
her up they wouldn't tell me anything until everyone else had left. I had to take her to an emergency vet for the night and was told
she likely wouldn't make it. All the way there she was screaming. They said she had a brain injury and water on her brain.
Well she made it though the night and she was pretty limp and incoherent. They told us in the morning she was blind but that she could
regain her sight. She didn't recognize us by sight or smell in the morning. We took her to another vet for the day, closer to home.
By the end of the day, she seemed to have some sight and recognized our voices and seemed to be able to see us. She couldn't quit
kissing all of us.
She is a little wobbly this morning and I can tell she has some vision problems. What I was wondering was if anyone has had anything
like this happen to a pet and if they were able to regain their sight.
We have been so devastated. We took this wonderful bouncy healthy puppy to be spayed and almost lost her and she has lost her health
and vigor. DH left work and came home for the night in case we had to make hard decisions in the morning. He is so attached to this
little girl.
Does anyone think there is hope for her getting better?