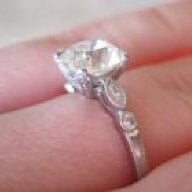 Joined

Jun 26, 2007
Messages

3,081
Aaah, what a wonderful, whirlwind weekend we had!
Sunday morning, after church, my sisters convinced me that we should go to the Ft. Worth Botanic Gardens to take pictures. We always dress nicely for Easter, and the plan was to take some nice pictures, and then have one or two matted and framed for Mother's Day. So, L and my brother in law C were with us as well. We took maybe 15 pictures, including a couple of me and L together.
So, we get to a bridge, and I'm still clueless. After a couple of pictures, L and I take a turn on it. After two shots, he hands me a small Easter basket. At this point, I know what he's doing! When I was a little kid, I used to think that the most romantic way to propose was to be all dressed up and on a bridge. Don't ask me why!! My mom must have shared this little thing to him! So, in the basket is a tiny egg, that rattles (especially with my hands shaking). I open the egg, and a jelly belly rolls out.. I'm glad he decided against putting the ring in there!! Inside there was also a note that said "Meg, I have a question to ask you." I turn and he's down on one knee. I honestly don't remember a word he said. I was too nervous to even put the ring on.
We have a million pictures of the whole thing because my sisters and BIL were standing right there. I practically forgot they were there for a few minutes. As we were walking back to our car, there was a limo waiting with champagne and flowers. We rode home (just the two of us) to my parent's house, where we had a lovely Easter brunch with his family, mine, my cousins, and some family friends.
AAaaah!! SO exciting! Yesterday we looked at a few venue options, because we don't get to go home to TX where the wedding will be very often.
About the ring... It's a 1.75 antique cushion in a Leon Mege custom setting. I have one terrible picture for now, hopefully later today I'll have a SMTB thread.