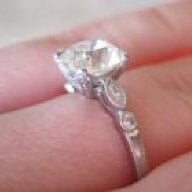 Joined

Jun 26, 2007
Messages

3,081
Whew!

I had no idea how exhausted I would be after registering! We only went to two places, but we spent nearly three hours at Neiman Marcus just narrowing down crystal and china. It is so fun and I think we picked out some great things. We did go back the next day and delete a few things (like a Waterford covered butter dish?!) because it's hard not to be greedy.

Where are you all registering? I thought this thread might be a good place to share the deals that different stores give when you register. At Pottery Barn they give 10% off anything on your registry starting the day after your wedding. We are going to register for a couch the night before the wedding so that we can get the discount later, without apppearing as though we're asking for our guests to buy us one!

Neiman's had impeccable customer service, as you would expect. Waterford cost the same there as it did at Dillards or Macys, but the people and service are far better. The guy who helped us was extremely helpful and knowledgable. I'm so pleased with the china pattern we picked, and he helped us see how versatile it could be.

I'm trying to decide between Dillards and Macys-- I know Dillards offers the same policy as PB, but I don't know much about Macy's yet.

What about you guys?