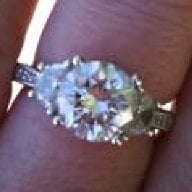 Joined

Jun 18, 2010
Messages

5,765
Has anyone else done this? I just did my first order and it was amazing, so I thought I would share.

My local store (Fred Meyer/Kroger) offers online shopping. It's all linked to my rewards card, which means they have lists that show me my recently and most commonly purchased items. Then, you shop just as you would at the store. If you want bananas that are green, just just type that into the comment section. It's a really nice way to stick to a budget because 1) you aren't tempted by random stuff you may see in the store, and 2) you can easily shop things that are on sale. It would also be great if you are on a diet, since you aren't tempted to buy the ice cream or cookies or whatever.

Pickup was really easy- I pulled up to a kiosk where they got my name, and then I drove over to the pickup area. They came out and went over substitutions they made due to out of stock items (you never pay more for a sub, and you don't have to accept the item), swiped my card, loaded the groceries into my car, and off I went.

I highly recommend this to anyone with little kids. The normal cost was $4.95, but it was free for my first time.