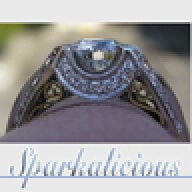 Joined

Nov 22, 2007
Messages

3,721
Hi everyone! I know that some of you are well versed at online buying and selling. Me - not so much.

I would appreciate if anyone was willing to share information, best practices or just show me the ropes a little. None of my friends or family are really familiar either so, unfortunately, they don''t serve as much of a resource, in that regard.
In particular, I''m looking at selling some items on various sites, e.g. Craigslist, Ebay or maybe even jewelry related sites. I have set up a Paypal account today. Yay me

but now I''m not sure what to do.
I should be fine with posting an ad but what if someone is interested and serious about purchase??

- How do I handle that transaction without getting scammed?

- Do I accept their payment via Paypal first, for example, and then ship the item to them? This is the part of the transaction about which I am most curious.
- How is it best to frame an "ad/item" so that it doesn''t get overlooked?
I apologize if my inquiry is ignorant as I know that most people are much more savvy in this regard but I felt it better to ask than to just fly blind.
Thanks in advance for any assistance!!