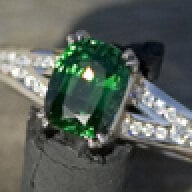 Joined

Aug 3, 2006
Messages

9,613
Just wondered if anyone else is having or has just one ring for themselves and none for FI?
Mine doesn''t want to wear one - my father doesn''t have one either. I''m very happy about it - I get to spend his half on mine

.
My brother and his GF are talking proposal talk at the moment. She wants him to wear a ring and now I''ve told him that FI isn''t having one and reminded him that our father doesn''t he''s all happy and is refusing too.
Some of my friends think its weird and one suggested people will try and hit on him by mistake. I''m not too worried as:
a) we are pretty much always out together
b) he kind of likes being chatted up

c) he never stops talking about me to people
How common is it to have 2 rings these days? How do you feel about your FI having or not having a wedding ring?