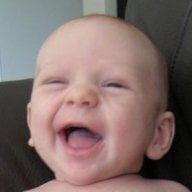 Joined

Feb 27, 2006
Messages

3,136
I share an office with about fifteen other people, one of whom is getting married this summer and one who has been married for 1.5-2 years. Both are guys. Today, the engaged one and I were talking about music -- he just booked a band for his wedding, and I''m looking into it and getting frustrated. His experience was pretty painless, and he was giving me tips.

Another guy in the office: "So, how''s planning a wedding? It seems like you have to get all these things lined up. Is it hard?"

Engaged guy: "No, it''s so easy."

Me, simultaneously: "It''s AWful." (I was getting frustrated with the music situation, I don''t really think it''s awful.)

I give him a look, and a couple people in the office laugh.

Engaged guy: "Well, come to think of it, all I''ve done is booked the band. She''s taken care of everything else."

Married guy: "You know how we''re not supposed to see her dress until the wedding? I think the purpose of that is so that we don''t have to get involved in the dress shopping, and get dragged from store to store and asked our opinions on how everything looks. I bet some guy came up with that."