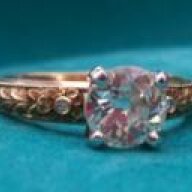 Joined

Mar 31, 2010
Messages

889
audball said:

And YES! I remember both you and amc from LIW. Crazy that you'll be a Mrs. in a few short weeks, that she's been married for almost a year and has a GORGEOUS baby boy. I remember lots of ladies from when I first joined LIW including sunnyd and freke, both now married with little ones.
This makes me feel really...old. Lol. I feel like I've been engaged for a hundred years. Part of me just wants to be married (and have a baby!) already, but another part of me wants to slow everything down and just enjoy the moment. Trying to stay sensible here!
Ok, let me post a poll and see what everyone wants to do. We can make a rule just for the ??/??/??s, or have it apply to everyone still waiting, or have it apply to the entire list. I don't think it makes much sense to have it apply to alumni, since they're already married and will be removed eventually anyway, but we can do whatever the majority want. No complaints here.
If I'm allowed to be OCD as well, I would change the word "alumni" to "alumnae," because as far as I know, we are all female (If any grooms would like to join up, though, you are more than welcome!). See, I can play, too.