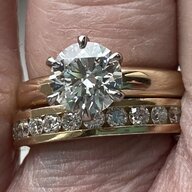 Joined

Feb 27, 2007
Messages

23,533
Hi everyone. Can you believe it is October? Like 2 months from Christmas? This month starts the holiday festivities – Halloween candy, then Thanksgiving eatathon and then we are in to Christmas parties. How do you try to keep those calories at bay? What tricks do you use to try and maintain during the holiday?
I saw a commercial today that was quite funny. It said the worse part about Halloween was giving away your Reese's. I for one take all of my left over Halloween candy to work and it disappears rather quickly that way.
As always watching portion control usually works but some things are best left alone if you can't stop eating them once you start.
We've had a very busy few days. Marty got back from his business trip on Thursday. I picked him up at DIA and we went to a Comedy Works in Denver that night. It was quite fun. We didn't get home till after 11:30 that night but we enjoyed ourselves.
Friday we went out for dinner. Saturday I cleaned house (I always like to say I clean my house once a month whether it needs it or not) then we went to Best Buy and got me a Kindle 3. I really like it. Once I realized I could read all the books Marty has already bought it was a no brainer which reader to get. The contrast on it is SOOO much better than my Sony Touch. I sold my Sony Touch to a lady at work. Last night was movie / popcorn night. This morning I headed south again to meet up with a friend of mine and her mom who are here from Montana visiting relatives. I spent a few hours with them. I made tacos for supper.
Michelle, has your heat wave eased up yet? Marty was in Phoenix last week and said it was very hot. We are still hitting near 80's in the day which is pretty warm for us this time of year. Congratulations for being under 150 pounds.



How exciting! I think you'd really like the Kindle. I put the reader ap on my iPod Touch and it works great on there too. I am sure you'll get a lot of attention at your family reunion with your new, svelte body. I did pick up my ring on Thursday and the diamond is nicer than the one they put in their first but just barely. I will probably put the sapphire back in.
Somethingshiny, congratulations on losing another pound and being good sore.

That shows you are showing your body who's boss.
Lisa, I hope your chaffing is better now. Wasabi mashed potatoes sound good. I know you can identify with family stress. I hope you do get a chance to veg out from it.
Beach Runner, way to go having energy after running 20 miles. Good idea to stay of I-25. We were on Pena Blvd and went on to I-225 Thursday at 5. We were stopped quite a bit. I was glad Marty was driving by then.
Take care and have a great week.

Marcy