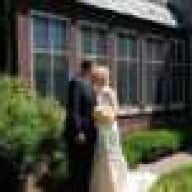 Joined

Jul 20, 2007
Messages

699
Well My sweetie and I had our first argument last night over our wedding (June 14th). Not anything about our wedding plans. Rather how much time I am putting in to planning and going over ideas. According to him, I spend so much time planning I am MIA with him.
I fully admit, I have been obsessing about details. Stressing about time lines. Adding to this is that we have decided that we are either going to sell or refinance our home before our wedding. Both ideas are good as interest rates for both avenues are exceptional and our market here has managed to stay steady. We will know which one after our taxes our done this week and we meet with a mortgage lender. Spring is the time to get top dollar for our home here as well.
Anywho.......I am spending so much time on Ebay,here, and surfing the internet for ideas and deals that my honey is upset at me. If I am not surfing I am talking non stop and going back and forth between ideas.
I am having trouble sleeping and I am becoming crabby and not myself. Now my sweetie has expressed his concern and we have argued over it. We never argue, really in 8 years we have never had a huge argument where one of us was angry and the other crying. Yeah I was crying...
Please help my brain STOP the madness!
I just want this day to be here and over so I can get on with our lives....Anyone else feel this way?
I told him I would stop looking and talking for one week to take a break....but here I am online again even writing about why I can''t stop obsessing