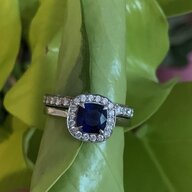 Joined

Jan 12, 2009
Messages

631
Ok, so I may sound a bit strange, but we are having a day wedding and therefore no dancing. People can''t grasp the idea. When our parents got married, they had a ceremony, lunch, tossed the bouquet and drove into the sunset. Nowadays weddings go on for hours. We''ve decided not to have a night do with dancing because I don''t like djs and bands are expensive, everybody drinks far more and with an open bar that is also £££. Finally my dad passed away and I don''t want to dance without him

We''ve decided to have the ceremony at 1pm, followed by cocktails and an elegant lunch. We have the hotel bar all evening, so people can stay on and have a drink with us. The hotel insists we have a buffet, so there will be hot roast beef sandwiches for those who want them. We were thinking we might put on a pub quiz in the bar as a bit of entertainment. Problem is I love winning so will be fiercly competitive over this! I am the bride and will therefore win (by natural talent and not by cheating).

Do people think we sound mad? Does anybody have any other ideas of how to do non-dance or day weddings?