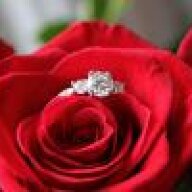 Joined

Aug 13, 2011
Messages

199
Hi Everyone!

I found this site about a week ago and decided to join! My boyfriend and I have been together for about a year and a half. In the past year and a half the topic of our future and marriage has been brought up several times. In June, my boyfriends company transferred him to Boston from Chicago. So July 1st we both made the big move to Boston! We have lived here for a little over a month and it has been amazing so far!

Before our big move, we found out that his grandmother has a 1 ct brilliant cut diamond that she wanted to give to us. We both knew that nothing would happen before the move due to lack of time. With the craziness of the move and getting settled in nothing was happening about the wonderful gift we had been given. Then this weekend was AMAZING! We finally got around to going to a jeweler and getting the diamond appraised. We also found my DREAM setting (which is now being custom made for us!).

Now is the waiting part. I know the engagement will happen and I know the ring I am getting....I do NOT know how long I will have to wait! AHH! It has only been 2 days since we found the ring and the suspense is killing me!

So that's my story, sorry its long. That has been the last month of my life and I cannot wait for my future. In the meantime, I am excited to be part of the Ladies in Waiting and look forward to sharing stories and talking with everyone!