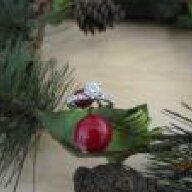 Joined

Jul 13, 2011
Messages

98

Hii!! I have been lurking for some time now and thought I would just take the plunge and join!! My bf and I have been together almost 2 years (Oct will be 2 years). I'm 26 and he is 29. Before we started dating we were friends for 8 months. He was getting out of a tumultuous relationship and we basically became bestfriends. Now, almost 3 years later, here we are!!! We have been living together almost a year and life is great!
We just started looking seriously at rings (going again tomorrow!!), but have been talking about getting married for some time now. BF actually suggested that we shop together because he wants me to have exactly what I want/love. Since I have been looking through the different posts and learning about diamonds, I have been filling my bf's head with all of this information! Suprisingly, he asks questions and gives his opinions, which is nice! My bf likes plain solitaires and I like a little bit more bling! He thinks solitaires are classic and timeless. I agree, but feel that a plain setting is just not me. So, I introduced him to halos and pave band settings. After trying on halos in person, I decided I didn't really like them as much as I thought. After he saw how excited I got trying on round brillants solitaires set on pave bands, he realized that's the ring of my dreams! So, now we are trying to find the perfect pave setting. Hopefully we will find it tomorrow!! He won't give me any more idea of when he will propose besides, "near future", since he feels it will ruin the surprise. I do agree with him, so as much as I hate not knowing plans (I'm a HUGE planner), I will just sit back and let him buy the ring, plan the proposal and propose to me on his own...once we find the perfect ring of course!
Sorry for the long post, but if you made it through it, thanks and I can't wait to get to "know" you all!!